If you're new here, you may want to subscribe to the RSS feed to receive future posts quickly.It's completely free!Thanks for visiting!
Check for More Pics and updated Post here!

PS:  Another updated post of pulsar 220 with confirmed spec list has been created on september 12th 2006 . Please click here to read that post
Lot of people came here after searching for bajaj Pulsar Dts-Fi 225cc bike on google.For their info al the information given here are not confirmed.Bajaj Auto limited havnt confirmed about the launch time/price/engine performance.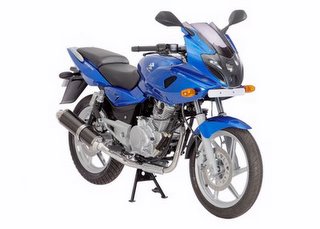 I heard about this bike from the auto expo`06 news on a News Paper.I searched a lot for its pics and details. Why should the company keep it as a secret? Any way i am grouping the data that i collected from various sources. Bajaj Pulsar DTS-Fi – A real performer bike from bajaj. A 225 cc engine, 21 bhp,oilcooled! , DTS-FI (Digital Twin Spark Fuel Injection) …. Thats what the indian bikers waited for. Now we have to wait for the price.I think it will be some where around 90k. But even then its a nice price comparing the performance it gives.
It comes with a superb instrument panel which is digital and cool looking handle bar( just like the 3 piece handle we use in modded bikes) .
The silencer of the new Bajaj Pulsar Dtsfi seems to be a heavy one.The tail lamp is a sporty looking LED (Like the one used in Traffic signals) .You can also see a half naked chain assembly.
Head lamp assebly seems to be redesigned from scratch by bajaj designers.A Projector Beam Headlamp and Fairing mounted mirrors adds to the sporty look.
It seems to have a dual seat and a bold looking rubber/plastic scales over petrol tank extending from the seat.Petrol tank and side panels are shared from the curent generation( Petrol tank and side panel gives it a MALE look!) .Then it has a rear disc! and much bigger wheels.So finally we got a bike with coalescence of power , beauty, economy(Since its from bajaj) , and performance.Concluding it here are the expected specs of the new Bajaj Pulsar Dts-fi 225cc bike are .. 225cc Engine 21 bhp Oil cooled DTS-FI (Digital Twin Spark Fuel Injection) Rear Disc Clip On handlebars Digital Instrumentation New exhaust system Longer swing arm LED Tail lamps Protector Beam Headlamp Fairing mounted mirrors New body panels If they price it right, it'll be the next hit. Given the majorly shared parts with the older Pulsars (hence no fresh look
) that should be doable – price wise.
Updated post about Pulsar 225 cc Dtsfi and more pics

PS:  Another updated post of pulsar 220 with confirmed spec list has been created on september 12th 2006 . Please click here to read that post